About the book
Dangerous Voyage to Alpha Centauri: A Scientific Vision of Our Next 50 Years:

In the year 2044, scientists have revealed new advances to extend the longevity of human life. Within the next years the world's population explodes by more than one billion people each year. Though millions live already deep under the moon's surface, it becomes necessary to search for planets outside our solar system.
Tim Turner, a teacher and scientist, tackles this mission by travelling to the sun's next star, Alpha Centauri. The isolation of his task drives him to the edge of lunacy, but what he discovers could prevent the human race from destroying itself. When Turner returns to Earth many years later, he comes back to an unthinkable situation. What has happened during his absence - and what has become of the two women he loves most?
A tantalizing mix of science fiction and love story, Dangerous Voyage to Alpha Centauri poses a fascinating question: Could this plot become a reality for the Earth and its residents in the not-so-distant future?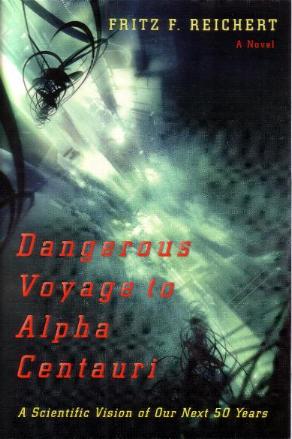 Dangerous Voyage to alpha Centauri
A Scientific Vision of Our Next 50 Years
2007 iUniverse New York-Lincoln-Shanghai
ISBN 978-0-595-42301-9 (pbk)
126 pages; € 11,95 (including € 0,78 tax)
Check the Book Reviews